The Illuminated Room is curated by Will Rose [Olsen, Evolution, Nowhere], and is a programme of avant-garde film/video screenings at Leeds College of Art and Design. Screenings start at 5pm and are free.
This week he's showing films by two of Mark's favourite experimental documentary filmmakers - Bruce Baillie and Robert Fenz...
The Illuminated Room
FILMS BY ROBERT FENZ & BRUCE BAILLIE
Leeds College of Art, Vernon Street Lecture Theatre, LS2 8PH
Thursday 10 November 2011, at 5pm
FREE and open to all
The Illuminated Room is a series of free screenings that survey the field of artists' film and video. Contemporary moving image work is screened alongside films and videos from the histories of experimental/avant-garde film, video art and underground cinema.
. . .
Robert Fenz's 16mm films are at once lyrical, ethnographic and acutely personal. His starting point is often a person or place, and from there he works intuitively to 'reflect a deeper understanding of the human condition.' To make CORRESPONDENCE he travelled to the locations of three influential films made by the pioneering ethnographic filmmaker Robert Gardner: West Papua, Ethiopia and Benares (India). "CORRESPONDENCE is not a straightforward commentary on Gardners's films; it is an elegy for a kind of image-making that is in the process of disappearing." (Fenz)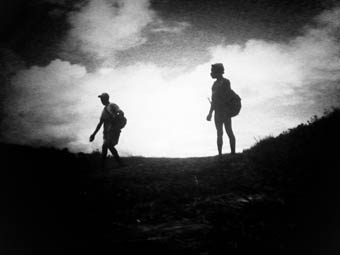 Correspondence [Robert Fenz, 2011] Image credit: www.markwebber.org.uk
Bruce Baillie was a key figure in the independent filmmaking scene of the '60s and '70s, and his film MASS FOR THE DAKOTA SIOUX, is one of the canonical works to emerge from that period. The film is both a requiem conceived on the occasion of the murder of President Kennedy, and a tribute to the Lakota Sioux, the native people of Dakota, USA. "The film a celebration of what has passed away from our hysterical milieu of materialism and technological redneckery!" (Baille)
Mass for the Dakota Sioux [Bruce Baillie, 1964] Image credit: blipmagazine.net
. .
Films:
CORRESPONDENCE, Robert Fenz, USA/Germany, 2011, 30min, 16mm
MASS FOR THE DAKOTA SIOUX, Bruce Baillie, USA, 1964, 20min, 16mm
. . .
Further 2011/12 screening dates for
The Illuminated Room
:
10 November, 17 November, 1 December, 19 January, 23 February, 15 March, 26 April, 17 May, 7 June